Description
USABILITY AND ACCESSIBILITY DAYS 2014
Engagement
9 December 2014
"Alkis Argyriadis" Amphitheatre, 35 Panepistimiou Str

10 December 2014
Kostis Palamas Building, 48 Akadimias and Sina Str

University of Athens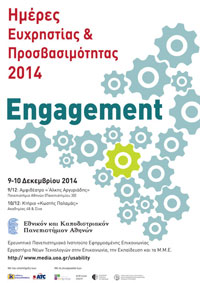 User Experience is all about engagement. Technology, products and services are usable when they engage people. At work we strive to engage with those around us—whether they're users, colleagues, or stakeholders. It means getting people on board with an idea, earning trust, and working toward mutual goals. We all know how challenging that can be.
This is the year to think out of the box. How can you engage people to use technology products and services? What kind of design thinking needs to be incorporated, to keep people engaged? How can you engage those outside our field to understand the importance of a good user experience? Can we engage people to help change those things that are not working well?
The University Research Institute of Applied Communication and the Laboratory of New Technologies in Communication, Education and the Mass Media of the University of Athens organise for the seventh time in a row the 'Usability and Accessibility Days', which this year will be celebrated in a two-day event at the "Alkis Argyriadis" Amphitheatre and the
Kostis Palamas Building
, University of Athens on the 9th and 10th of December 2014.
---
Source:
World Usability Day